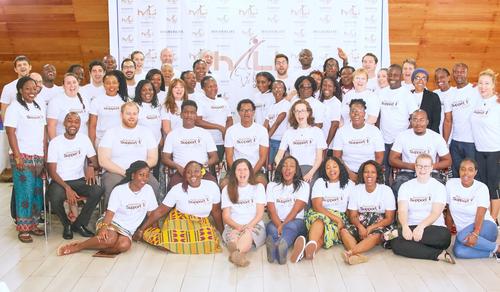 HALI Access Network members at the fourth annual Indaba in Ada, Greater Accra, Ghana.
From April 26th through the 29th, the 2019 HALI Indaba brought over 2000 high-achieving, low-income (HALI)  high school students from all over Africa together. This year, the Yale CIPE and the Yale Young African Scholars Program, a flagship program of the Yale Africa Initiative, were both representatives and, for the YYAS, served as the secretariat for the meeting. According to the Yale Young African Scholars News,
Now in its fourth year, this year's Indaba theme was 'From Success to Support,' focusing on how member organizations can support their alumni as they transition into university and, later, back to the continent after graduation. Network members and university admissions representatives presented information and led discussion sessions on topics including mental health support, helping alumni to stay connected with and to give back to their home communities, and supporting students from conflict-impacted regions. One participant commented that the indaba offered, "some fascinating and well thought out sessions, with the focus on mental health and wellbeing of students as a critical conversation each year…" and another remarked that, "data sharing, in particular, allowed for different organizations to gain helpful insights into the work generally being done in university access across the continent."
To read more and for more information, read the full-length article here.