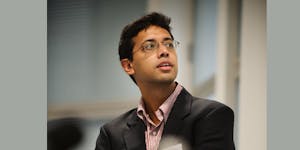 Tuesday, September 11, 2018 from 5:30 PM to 8:00 PM (Singapore Standard Time Singapore Time)
Yale-NUS Lecture on Global Affairs
Sponsored by Professor Saw Swee Hock
Eighty percent of the world's population lives in developing countries. Living conditions are often dire: almost 2.5 billion people live on less than $2 per day, over one billion remain without access to electricity. A central puzzle in development is that effective, inexpensive technologies with the potential to address many of these problems exist, but are often not adopted or used. Prominent examples include health products, along with financial services, agricultural technologies, and other rational response behaviours that improve economic productivity. This lecture will explore different aspects of these low-adoption problems and their development consequences. It will draw on Professor Mobarak's pioneering research, based on microeconomic models of technology adoption and behaviour change, in Asia and Africa.
5.30 pm  – Tea reception
6.30 pm  – Yale-NUS Lecture on Global Affairs
About the Speaker
Ahmed Mushfiq Mobarak, is a Professor of Economics at Yale University with concurrent appointments in the School of Management. Mobarak has several ongoing research projects in Bangladesh, Brazil, Chile, India, Indonesia, Kenya and Malawi. He conducts field experiments that explore ways to induce people in developing countries to adopt technologies or behaviors that are likely to be welfare improving. He received a Carnegie Fellowship in 2017.
https://www.eventbrite.com/e/strategies-to-increase-adoption-of-welfare-improving-behaviours-in-developing-countries-tickets-49206118826