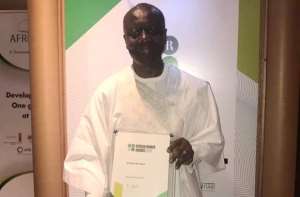 Ghana's Finance Minister, Ken Ofori-Atta has been awarded the prestigious African Finance Minister of the year at the Annual African Development Bank (AfDB) Meeting in Busan, South Korea.
The award follows Ghana's recent macroeconomic performance.
Recognised as Africa's most results-oriented Finance Minister, Ken Ofori-Atta's prudent economic management has boosted confidence and optimism in Ghana's economy – hauling it out of a deeply pessimistic economic outlook from a little over a year ago.
Investor confidence in Ghana has been bolstered with the country's strong showing in its recent bond issuance, which raised US$ 2.0bn in 10-year and 30-year Eurobonds of $1.0bn each.
https://www.modernghana.com/news/855951/ken-ofori-atta-is-african-finance-minister-of-the-year.html