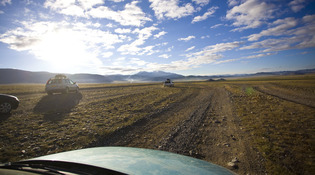 We've only covered 500 miles the first time one of our cars breaks down. Just 9,500 more to go. Emergency lights flashing, our five cars pull off on a German highway, somewhere between our launch site—England—and our destination: Mongolia.
The Mongol Rally is an annual road trip challenge organized by the Adventurists, a UK–based group that works to "bring chaos into over-sanitized lives." It requires participating teams to follow only three rules:
1. Take a "farcically small" vehicle.
2. Do it completely on your own.
3. Raise at least £1,000 (per car) for charity.
https://yalealumnimagazine.com/articles/4398-5-cars-12-yale-grads-10-000-miles-to-ulaanbaatar